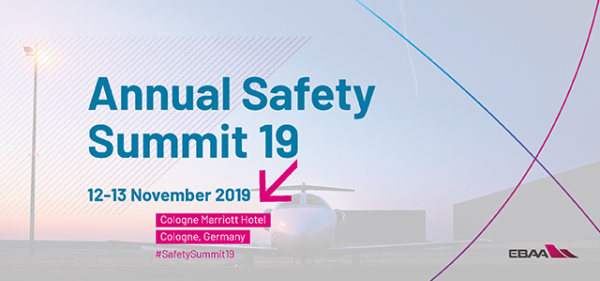 The fifth edition of the EBAA Safety Summit unfolded in Cologne on the 12th and 13th of November, with an unprecedented level of involvement and representation from EASA.
This year. we covered an array of topics, but Runway Performance and Reduced Landing Operations kept our participants speaking for the entire duration of the summit. Sessions on using Operational Landing Distance and Predictive Landing Performance Systems examined how to comply with the EU regulatory framework from the manufacturer perspective.
This year's event featured five break-out sessions, facilitating exchanges between attendees and session moderators and placing the spotlight on:
Smaller operators, via a dedicated workshop to select, define & apply Safety Performance Indicators & Safety Performance Targets as part of a healthy Safety Management System
Ground Handling, covering IS-BAH safety standards and the use of ground safety programs
New Technological Solutions, inviting attendees to discover what tomorrow's ATM safety solutions will look like
Identifying the top safety concerns for business aviation, illustrating a strong cooperation between institutions and industry associations
Pilot Peer Assistance, aiming to appease commercial operators' concerns about the programme's implementation, in view of the approaching compliance deadline (Aug 2020)
Moreover, EBAA has a long-standing commitment to support the promotion and implementation of Business Aviation Industry Standards. Thus, IBAC representatives were on site throughout the Safety Summit to answer any questions our attendees had on IS-BAO and IS-BAH.
During the presentation on the Predictive Landing Performance System by Gulfstream, the audience expressed concern about potential risks due to increased crew complacency and a tendency for "head down" behavior during critical phases of flight. The concern was cleared, as information is made available on a Head-Up Display. Moreover, the system refrains from using callouts by displaying an awareness window, avoiding any negative impact aural callouts might have on the passengers.
Addressing a safe and healthy set of Flight Time Limitations (FTL), Jeppesen proposes that no duty may exceed nine hours without a class 1 rest facility and extra crew. Moreover, no duty shall force a wake-up before 6:00 or impede going to sleep at 22:00. It has been asserted that using a Fatigue Risk Management System (FRMS) is more efficient than an FTL scheme, as the FRMS has a preventive action on avoiding fatigue and also supports specific derogations from the FTL scheme.
#NEWTECH – New Technical Solutions
The benefits of having a Single European Sky (SES) are clear. Such a framework would trigger a reduction in costs by 40%, translating to a further 40% reduction in navigation charges costs. Moreover, it is assessed that 37% of the solutions in the Single European Sky ATM Research (SESAR) Catalogue will have been delivered in 2020. Nevertheless, there is no visibility on the process to mandate or regulate any of the SESAR solutions. EBAA recommends that no retrofitting should be imposed.
In terms of recommendations, it was agreed that the business aviation community needs to be more involved with preparing the future Air Traffic Management (ATM) structure. Therefore, the EBAA will work on raising awareness on the proposed SESAR solutions..
Furthermore, a call was made for the EU institutions' support to communicate about data on cost savings, operational and environmental impact benefits brought by ATM technologies and procedures.
Of course, the aircraft industry will need to address the impact of new technologies on staff training and whether SESAR can speed up the change process, such that aircraft could be used to their full technical potential. This entails the need to adapt the ATM R&D and certification processes towards Business Aviation's operations.
The session concluded that SESAR is safety driven and promises improvements on other areas, such as operational efficiency, capacity and environment impact, as well as access to airspace and airports. Thus, the participants called for a better understanding of the SESAR Research & Development programme and solutions and the recognition of its contribution to Business Aviation's safety. Lastly, it was concluded that R&D should address mitigation measures for runway excursions through ground infrastructure enhancements, especially at secondary airports.
#SAFETYCONCERNS – Top Safety Concerns for Business Aviation
The business aviation reporting culture is known to need improvement. This is because there is currently a lack of timely and good quality reports, as the integration between EASA and the NAAs is not optimal. Moreover, there is also another layer of technical concerns, such as GPS jamming which is extremely disruptive to all modern avionics systems based on it.
Though the two groups who participated in the session were bringing different backgrounds and experience, there was a significant overlap in the concerns identified. All safety concerns are linked to each other and this creates a logical action path for the future.
The first concern is related to wake turbulences and subsequent Loss Of Control In-flight and Upset Prevention and Recovery Training, though the position in the list of priorities is based on the type of aircraft operated. Unfortunately, the cost of training is still an issue, as smaller operators struggle to afford it.
With the emergence of new technologies, also new threats to safety and security are identified. One such example is swarming, a malicious use of drones which consists in the launch of a high number of devices with the purpose of disrupting airport operations.
Moving on, the degradation of routine skills often applies to highly skilled pilots who are getting used to automation. Hand flying an aircraft is still important, as there are records of incidents related to non-autopilot flight. There is not enough focus on the pilot monitoring role, and this has implications on other aspects, such as the communication between the pilot and the air traffic controller. Operators are encouraged to highlight crew cooperation in simulator training and test problem-solving skills in a team setting.
Lastly, business aviation operator compliance departments are too small to keep up with new requirements, as more and more time is needed to ensure compliance. NAAs are putting pressure on operators to comply with EASA instructions in order to prevent EASA from blaming the NAAs themselves. Adding the national authority's pressure to the already high regulatory compliance burden – 12.000 pages of regulation – is potentially taking away from the attention that should ideally be dedicated to maintaining safety.
#SAFETYinGH – Next Safety Battle is Ground Handling
In the past five years, Ground Damage has been the top incident category in the aerodrome and ground handling- related occurrences in terms of number of incidents and level of risk.
Another interesting take-away from the session was EASA's feedback on the unsatisfactory English language level of non-native speakers working in ground handling in the UK.
#SPI's – Safety Performance Management for Small and Medium-Sized Operators
There needs to be an inherent desire to improve within the organization, as well as a strong conviction that Safety Performance Management is the appropriate tool.
There is evidence of poor data collection reflected in the management of what operators cannot control / have limited influence on – Tier 1 and Tier 2, which represent the outcome, thus cannot be changed. Tier 3 and 4 indicators need to be defined in cooperation with the operational people (flight crew, ground handling people) and then have them prioritized, assessed and approved. Hence, if the outcome is not satisfying, processes must be tweaked​.
It's always better to have a small number of indicators which are relevant and prove that your company is understanding the specificity of your operations, rather than being in one of the extremes – because of lack of experience or too many (sometimes copied from another organization) which are not useful.
Indeed, the focus was not that much on Safety II, but we need a strong safety culture and safety understanding as a foundation before looking at what is going well.
A proposed approach was the management of change, where the company starts to identify risks, what it wants to measure after which they define a timeline. The small operators struggle to generate and collect a relevant amount of data which gives an accurate picture, because they tend to fix their issues from flight to flight, as most tasks are not repetitive in nature
#P2P2020 – Pilot Peer Assistance
There are two different tiers to the support that can be offered within Pilot Support Programme: well-being assistance, which includes both the physical and mental aspects, and post-incident professional help.
The programme is based on three pillars:
Critical Incident Stress Management
Well-being
Substance Abuse
There is a network of voluntary peers, which ensures that the discussion remains confidential and the assessment is unbiased and independent. Moreover, support is offered in over 100 languages.
During the Runway Performance presentations bundle, the audience heard that the EASA 14 October 2019 publication of Air Operations regulation EU No 965/2012 contains the option for business aircraft to dispatch with reduced required landing distances. It provides the opportunity for European operators to dispatch with an 80% landing factor instead of the current 60%, provided certain requirements are adhered to.
According to the regulation, the crew of a commercial flight has to check that the aircraft can land on 60% of the runway length available on dry runway​, this means that AFM Landing Distance x 1,67 ≤ Runway length available​. For a wet runway, an additional Margin of 15% is required, thus AFM Landing Distance x 1,92 ≤ Runway length available​. Though a specific value is not mandated by regulation for non-commercial flights, the Saint Tropez airport, through a decree, was imposing the same landing factors for all flights. Following a new decree published in July 2019, it was possible to have an alternative landing factor approved for non-commercial flights. After conducting a safety assessment, Dassault Aviation as able to prove that Falcon 8X and Falcon 2000 LXS/S can safely land using a landing factor of 1.58 and 1.49, respectively.
​In terms of safe, secure and efficient drone operations, the Certified category is seen as having a degree of risk equal to the one of manned aviation. A final opinion on the U-Space regulation is expected in Q1 of 2020.
The final session of the summit discussed training and included a presentation delivered by EASA on Evidence-based training (EBT), which enables a data-driven training system. Unfortunately, EASA has no data to support EBT. When asked about what can be done to improve training, the panelist recommended more flexibility, such as the type of devices/technologies allowed (e.g. Virtual Reality), as well as encouraging the use of Flight Data Monitoring (FDM) as a key input to the EBT programme.