Press release
EBACE2016 Raises the Bar for Business Aviation Community in Europe
Brussels, Belgium, 31 May 2016 – The 2016 edition of European business aviation's premier event, the European Business Aviation Conference and Exhibition (EBACE), "raised the bar for the business aviation community in Europe, yet again," says Fabio Gamba, CEO of the European Business Aviation Association (EBAA). The event, jointly organized by EBAA in partnership with the National Business Aviation Association (NBAA) in the US, was a big success, according to organizers, attendees and official figures.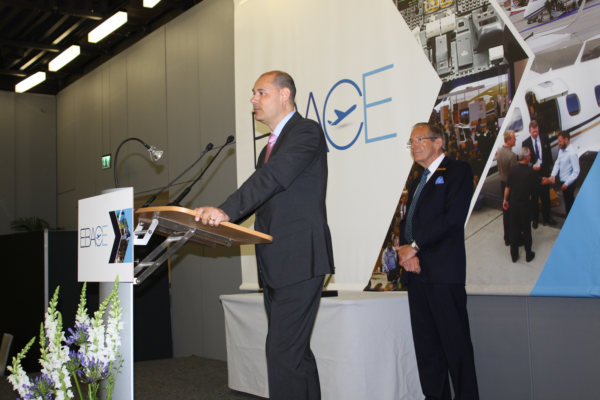 Attendance at the 24-26 May event in Geneva was up by 2.5% over last year, to just over 13,000, with people from more than 100 countries. EBACE2016 featured the largest exhibition footprint since the first edition in 2001, covering 36,000 square metres. And the sold-out static display hosted an impressive array of 60 business jets of all makes and sizes over an area of 18,000 square metres on the tarmac.
During the opening general session of the conference portion of the event, three highly respected keynote speakers shared their thoughts on some of the most pressing issues facing business aviation in Europe. Dr. Bernard Kouchner, former foreign minister of France and cofounder of Médecins Sans Frontières, provided fascinating reminiscences and anecdotes of the key role played by aviation in both humanitarian and external affairs.
Patrick Ky, Executive Director of the European Safety Agency (EASA), offered insight into the reform of EASA. And, Bassim Haidar, founder and CEO of Channel IT Group, made an impassioned case for the critical role of business aviation in a fast-moving cross-border business, especially in emerging
countries.
"Despite the challenging economic environment of recent years, this was one of the most
exciting, well-attended and appreciated EBACE's ever," says Gamba. "And, we're already
looking at how we can make EBACE 2017 even better."
EBACE2017 will take place in Geneva on Monday 22 May until Wednesday 24 May 2017.