2020 Olympic and Paralympic games in Tokyo
Flying to Tokyo with a customer for the 2020 Olympic or Paralympic games next summer?
Then you will already now have to file for a slot at one of the Tokyo airports.
The Japanese authority JCAB has published a process for allocating slots for non-scheduled traffic surrounding the time period for both of the summer games. Treating all six airports surrounding Toyo as "Level 3 Airports" for the period 1 July to 30 September. Ibaraki airport will be used for non-scheduled traffic as well during the games.
The Special coordination period started 1st December and will run until 10th February. During this period requests for slots will be accepted. An answer to the request is to be expected by 28th February. After this Special Coordination period slots may be assigned on availability and first come first serve basis.
Detailed information on airports available, slot allocation priorities, and application form can be found at the JCAB website.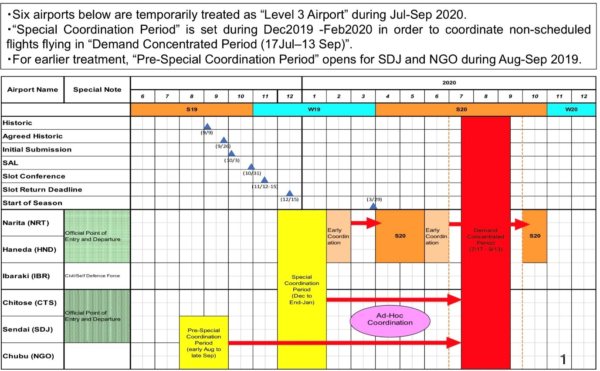 Depending on customer/passenger status availability of slots will vary for the two defined periods,  Demand Concentrated and Demand Peak:
The Demand Concentrated Period covers 17th July – 13th
The Demand Peak Period the days around the ceremonies; 21st -25th July & 8th – 10th August and 22nd – 26th August & 5th – 7th
Deadline for application during the Special Coordination period is 10th February.