CORSIA – an important update
Overview
On 27th June 2018 the ICAO Council adopted the First Edition of the International Standards and Recommended Practices, Environmental Protection — Carbon Offsetting and Reduction Scheme for
International Aviation (CORSIA) (Annex 16, Volume IV to the Convention on International Civil Aviation). CORSIA is a "market based mechanism" aimed at reducing emissions through a direct charging process
against emissions produced. Market based mechanisms were highlighted within the Business Aviation Commitment on Climate Change (BACCC), published in 2009, that would be part of a "basket of measures" towards reducing overall emissions from the business aviation community.
For the full update, please download the brochure on the left
Business aviation and the environment – Corsia
CORSIA – THE ICAO CARBON OFFSETTING AND REDUCTION SYSTEM FOR INTERNATIONAL AVIATION
The global aviation industry is addressing climate change with a robust plan to reduce emissions based on a comprehensive set of goals. After 2020, technological, infrastructure, and operational efficiency measures will be complemented by the ICAO Carbon Offsetting and Reduction Scheme for International Aviation (CORSIA).
CORSIA will help the industry meet its goal of carbon neutral growth from 2020 in support of the Business Aviation Commitment on Climate Change.
This means covered aircraft operators must offset the growth in their carbon emissions on an annual basis compared to a 2020 baseline (that is, the difference between the emissions of 2020 and those of subsequent years).
The ICAO Standards and Recommended Practices (SARPs) that details the CORSIA requirements is currently under development. EBAA members will receive updates through email newsletters. (LINK to signup)
ARE MY OPERATIONS COVERED BY CORSIA?
All operators should monitor emissions as a best practice.
For CORSIA in general, most business aircraft operators will not be required to participate (will not be "covered"), as there are several important exemptions that include most operators. CORSIA applies to international flying only; domestic flights are not covered.
The following are also exempted from CORSIA:
Operators that emit fewer than 10,000 tonnes of CO2 in international flights annually (See below illustrative table showing how many tonnes of CO2 are emitted at 400 hours and 900 hours flying time on a per-aircraft basis.);
Aircraft under 5,700kg MTOW; and
Humanitarian flights (e.g., medical, disaster relief, firefighting).
The table below further the operations that are covered under CORSIA.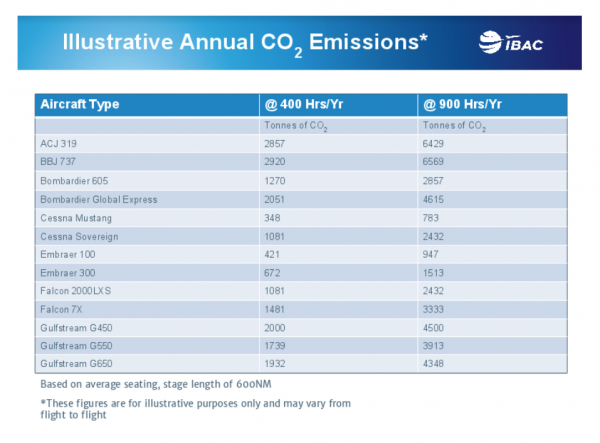 10,000 tonnes of CO2 emissions is roughly equivalent to 4 million litres of fuel (one million gallons).
WHAT IF I AM COVERED BY CORSIA?
Most business aircraft operators that will be covered will benefit from free tools that promote simplified monitoring, reporting, and verification. This page will be updated when further CORSIA details are released.
Review this checklist from IBAC to understand how to prepare for CORSIA if you are covered.
For other resources related to CORSIA, please see the Air Transport Action Group (ATAG):
CONTACT EBAA
If you have specific questions related to CORSIA, including if you're unsure whether you're covered, please don't hesitate to contact us.