The EBAA and the environment
The EBAA works with its members to adhere to best practices, standards, and regulations for the environment.
EBAA has in-house experts to analyse and explain:
Business Aviation Commitment on Climate Change
International Civil Aviation Organization (ICAO)'s Carbon Offsetting and Reduction Scheme for International Aviation (CORSIA)
CO2standards and the International Civil Aviation Organization (ICAO)
Noise pollution standards and the ICAO Balanced Approach
EU Emissions Trading System (ETS)
For more information, read on, or contact:
Bruce Parry, Environment Senior Manager, bparry@ebaa.org
Business aviation and climate change
The business aviation community has long been committed to reducing the environmental impact of its products and operations.
The Business Aviation Commitment on Climate Change is a collective effort of the industry to bring about innovation and improvements in efficiency from modernising infrastructure, operations and alternative fuels.
Business aviation has established an excellent record of consistently improving fuel efficiency, delivering a 40% improvement over the last 40 years. Worldwide, BizAv carbon emissions are approximately 2% of all aviation and just 0.04% of global man-made emissions.
CO2 emissions compared to other industries: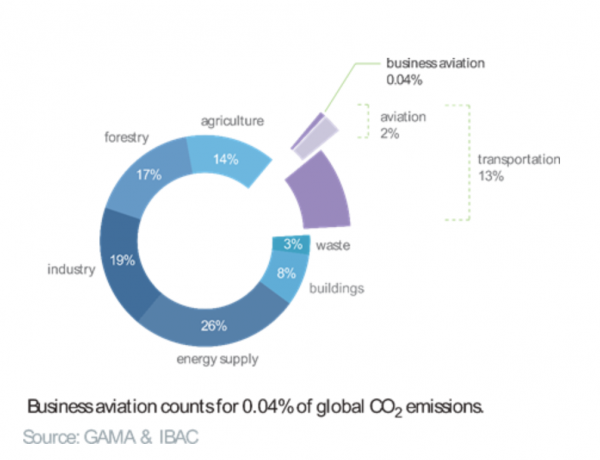 Despite this excellent record, the business aviation community has pledged to do even more by committing to the following specific targets:
Carbon-neutral growth by 2020;

An improvement in fuel efficiency of an average of 2% per year from today until 2020; and,

A reduction in total carbon emissions of 50% by 2050 relative to 2005.
Continually improving
In 2009, the General Aviation Manufacturers Association (GAMA) and the International Business Aviation Council (IBAC), developed a strategy for CO2emissions reductions to 2050, on behalf of the manufacturers and operators of business aviation worldwide.
In 2016, the industry published an update on the Commitment on Climate Change, introducing focus areas where the specific targets will be met. These focus areas are Technology/Alternative Fuels, Infrastructure, Operations and Market-Based Measures.
The updated Commitment on Climate Change can be found here
For more information, contact: Bruce Parry, Environment Senior Manager, bparry@ebaa.org
About GAMA:
GAMA is an international trade association headquartered in Washington, DC, with a branch office in Brussels, Belgium. GAMA represents 67 of the world's leading manufacturers of general aviation aircraft, engines, avionics and related equipment. GAMA's members also operate fleets of aircraft, fixed based operations, and pilot training and maintenance training facilities. www.GAMA.aero