Published on
January 17, 2018
Business Aviation in Europe:
Business Aviation connects distant and remote regions, spurring investment and the growth of business across Europe. The industry acts as an enabler for regional and national economic development.
Business Aviation Enables Economic Growth:
A total of 374,000 European jobs are either directly or indirectly dependent on the European Business Aviation industry – a number exceeding the total number of jobs in Cyprus.
The industry represents €87 billion in Output and €32 billion in Gross Value Added (GVA), which equals the total GVA of Latvia, and €25 billion spent in Salaries.
The effect of Business Aviation over the EU28 GVA is about 0.19%.
France, Switzerland, Germany and the UK are the main players in the sector, producing 76% of the total GVA of the industry.
Out of the above total, 192,000 of the sector's jobs stem from the operation of business aircraft, i.e. jobs with aircraft operators, maintenance firms (MROs) and ground handlers/fixed-base operators (FBOs).
Business Aviation Enables Business Efficiencies
Across all European point-to-point flight routes, Business Aviation flights save an average of 127 minutes, when compared with the fastest commercial transportation alternative.
Although certain long-haul flights might be faster with commercial jets due to higher ground speed, about 20% of Business Aviation flights result in more than five hours of time saved than their best commercial alternative due to delays avoided and time saved in airport procedures.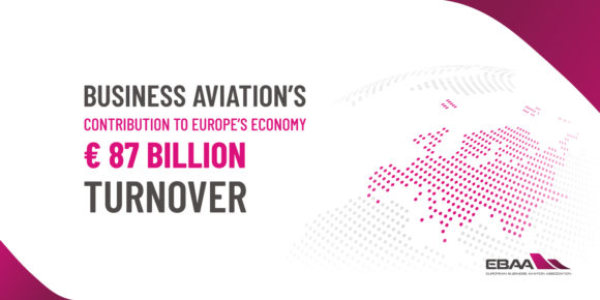 Business Aviation Enables Connectivity
Business Aviation in Europe serves 25,280 city or area pairs not connected by nonstop commercial flights (direct flights), which represent approximately 31% of total city pairs analysed. In short, nearly 1 connection out of 3 is not connected by any direct commercial flight, meaning the connection wouldn't exist without Business Aviation.
For the eight city areas considered, on average, Business Aviation increased the number of direct connections to a city by more than 450% compared with regularly scheduled commercial aviation.
Business Aviation allows for air ambulances and medical evacuations to be provided to and from remote regions. According to EBAA data, 12,000 departures were flown to serve medical evacuations representing more than 50 departures a day.
Since Business Aviation requires fewer connections and is subject to fewer delays, it represents an optimised travel option from an environmental perspective.