Event
European Business Aviation SAF Summit
20/04/2021
Online Event
14:00 - 17:00 CET
European Business Aviation SAF Summit
THANK YOU for being part of the first-ever European Business Aviation Association
We hope that the summit has provided you with more knowledge about the Sustainable Aviation Fuel Initiative.
We would like to thank you for your commitment, your support and your enthusiasm that made the event a real success!
We are all together under one goal: accelerating the availability and use of SAF
Live stream on demand is available for all registered attendees on the SAF Summit Platform!
IT'S NOT JUST ABOUT FUELS.
IT'S ABOUT THE FUTURE.
Building on past events, such as the Virtual 2020 Business Aviation Sustainability Summit in Washington, the Business Aviation Coalition on Sustainable Aviation Fuels is organizing the first-ever European counterpart: the European Business Aviation SAF Summit 2021.
The event – held virtually on 20 April – brings together high-level EU officials from all relevant institutions; the EU Commission, Council, and Parliament, and the entire Business aviation value chain under one goal: accelerating the availability and use of sustainable aviation fuels (SAF).
The single-largest potential reduction in aviation's GHG emissions — and the key to reaching goals for reducing them — will come about through the broad adoption of sustainable aviation fuel (SAF) in place of conventional jet fuel in use today as described in the Business Aviation Commitment on Climate Change. There are other, cleaner alternatives to fossil fuels being developed in addition to SAF (e.g., electrification and hydrogen), but these remain longer-term alternatives, whereas SAF has been proven to work, and is ready to be scaled today.
Increasing the industry's uptake of SAF is important, but it is clear, and understandable, that SAF is available today, but not widely so. This summit provides an opportunity for the global Business Aviation Community to discuss the factors that are holding back the full deployment and commercialization of SAF with European policymakers.

The European Business Aviation SAF Summit is made possible thanks to our sponsors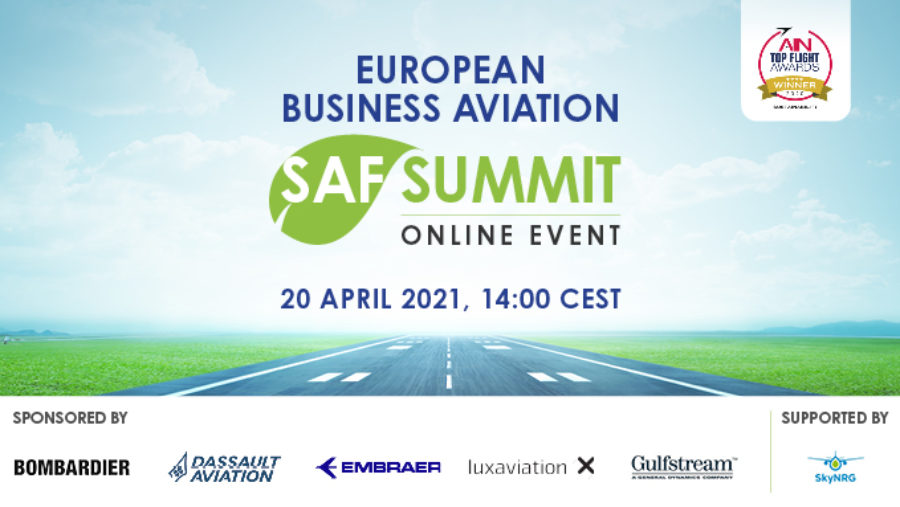 Contact the Events team 
Do you want to attend or speak at one of our flagship events? Want more information on sponsorships options? Get in touch with our events team:
events@ebaa.org or +32 23 18 28 07
If you have specific questions on EBACE, please contact Rachel Clementi at rclementi@ebaa.org