By Arthur Thomas
EBAA releases two new online data tools and services
High-quality, verified and reliable data is essential to support sound, economic and political decision-making.
For this purpose, EBAA consistently aims to provide a comprehensive set of statistics about the Business aviation sector that can be used by all stakeholders, through engaging infographics, maps and data visualisations.
We're delighted to announce two new online data tools and services; a new digital interactive version of our traditional Yearbook, and a Business aviation traffic dashboard (E-STAT) for members.
The EBAA Yearbook goes digital
Since 2015, EBAA has published an annual statistics report providing a snapshot of the Business aviation sector in Europe. Socio economic impact, flight activity, fleet, connectivity, the Yearbook covers all this and more in 140 individual data sheets, each containing more than 100 data points.
The new, digital version now offers interactive data infographics for each European country. It also covers the top 50 most active airport and 50 business aircraft types. Getting a complete picture of European Business aviation has never been easier. This annual report is prepared using EUROCONTROL and WingX data.
The new Yearbook has been developed for use on computers and smartphones, and two versions are available; a public and members-only version.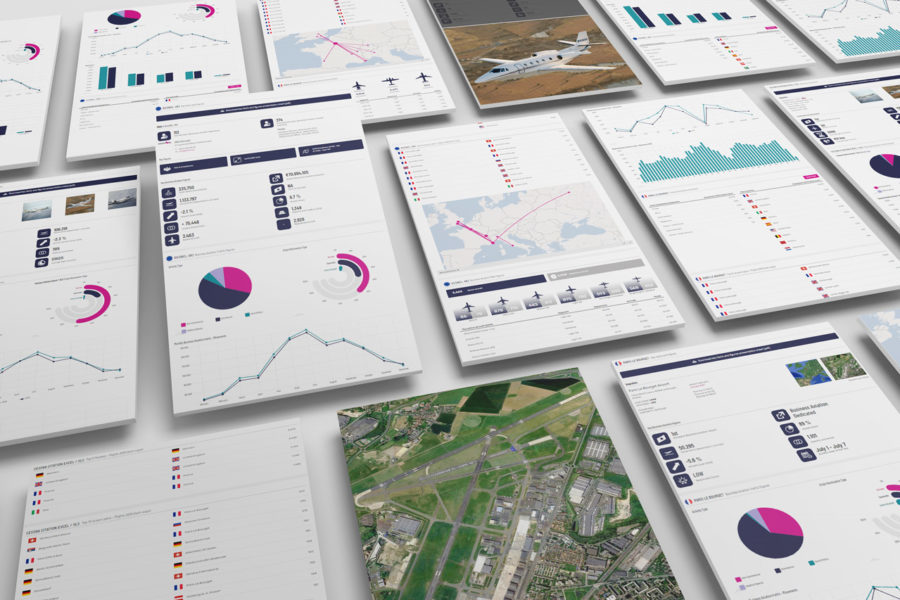 E-STAT Dashboard, developed in partnership with WingX
The Business aviation ecosystem is constantly changing, and good business decisions can only be made with the most up to date information available.
With this in mind, EBAA has worked with WingX to create an online dashboard offering a wide variety of Business aviation traffic data. Users can filter and extract actionable data on European Business aviation activity. Whether you want to measure the evolution of Business aviation traffic at a specific airport, for a specific type of aircraft, or over a specific period of time, E-STAT will tell you what you need to know.
Different from the Yearbook, E-STAT is a live service with traffic data updated monthly. This is a service reserved for members only.