Industry update
EBAA signs the United for Wildlife Buckingham Palace Declaration at EBACE2023
EBAA signing of the United for Wildlife Buckingham Palace Declaration at EBACE2023 marks a new cornerstone in the association's long-standing commitment towards sustainability.
As a concrete example of our unwavering commitment towards protecting the planet and promoting sustainability, EBAA became signatory to the United for Wildlife Buckingham Palace Declaration at EBACE2023. In fighting illicit wildlife trafficking, a truly global crime worth between $7-23 billion annually, the Business aviation community can significantly contribute towards the UN Sustainable Development Goal 15 (SDG) by taking action to end poaching and trafficking of protected species.
This inspiring initiative is fostering a growing commitment within the aviation industry, as it is increasingly being exploited by wildlife traffickers. Criminals are looking to exploit weaknesses in transport supply chains to move products from source to destination countries.
"Few causes can galvanise interest and support across the transport and logistics sectors like the societal challenge of fighting wildlife trafficking. It brings me great pleasure to have signed the Buckingham Palace declaration on behalf of EBAA and take concrete action in addressing this pressing issue", said EBAA Chairman Juergen Wiese. "I would like to dedicate the signature of the United for Wildlife Buckingham Palace Declaration to the loving memory of our late Secretary-General, Athar Husain Khan. Athar was a fierce advocate of fighting this ferocious crime on a personal level, with many times speaking out against these practices. Wisely recognising the importance of taking a proactive approach, he, as the Secretary-General of EBAA, understood that his association should lead by example and be at the forefront of the industry's sustainability efforts. Signing up to this Declaration is a tribute to Athar and the culmination of his work as his legacy will certainly live on."
Initiatives like United for Wildlife can support governments in their efforts to halt these activities.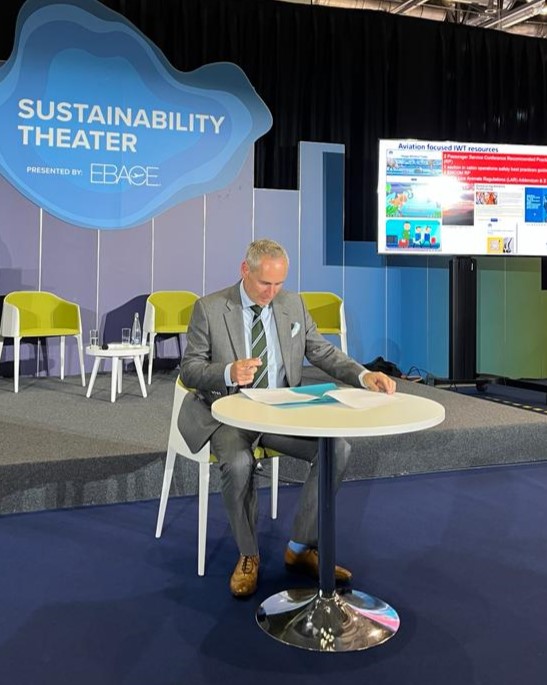 The Declaration's commitments are:
Raising awareness of the issue amongst EBAA's wide membership. We will make sure best practices will be spread across the industry through awareness-raising campaigns on the nature and consequences of illegal wildlife trade.
Ensuring that proper information sharing and detection mechanisms are put in place.
Working together with other like-minded industry associations, so that the risk of providing services to individuals applying these practices is averted.
EBAA will now engage with all parties involved so that the Business aviation community is also represented within the esteemed ranks of air transport associations and industry representatives.