Industry Update
What is new in the world of safety?
The world of safety has seen some truly thrilling advancements as of late. Let's delve into the key highlights and take a glimpse at what lies ahead for EBAA members.
EASA Safety Week – No Compromise on Safety! – Are you Ready, Resilient and Responsive enough for the anticipated challenges this summer?

Between the 30th of May and the 2nd of June, the European Union Aviation Safety Agency held its yearly Safety Week, focusing on three main themes: Readiness, Resilience and Responsiveness of the industry to ensure safe and effective operations when faced with the challenges brought by the summer season.
The Safety Week Agenda had 7 sessions focussing on different domains that need to address the upcoming hurdles:
30 May: Cross Domain & Air Ops
31 May: Aerodromes/Ground Handling & Maintenance and Continued Airworthiness
1 June: Flight Training/ATO & ATM/ANS
2 June: Cybersecurity
The recordings and summary of the webinars are available on EASA's Together4Safety channel and the EASA Community Network.
The Safety Week marked the start of EASA's Summer Campaign, also serving as a platform for making the upcoming initiatives known to a broader audience.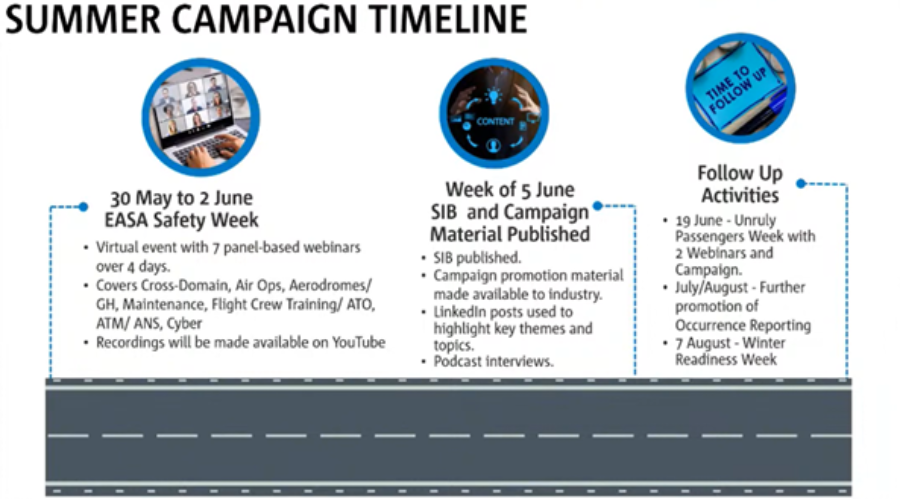 The Agency has prepared a Safety Information Bulletin (SIB) – Possible Risks Emerging During Summer 2023 – and a Safety Promotion package with many useful and practical pieces of information to help the industry deal with any potential challenges while making no compromise on safety. The SIB aims at raising awareness of possible risks and safety issues associated with possible traffic disruptions and provides recommendations on averting or coping with them.
Throughout the summer the Agency will be ready to support the aviation industry with materials in the areas of:
Dealing with unruly passengers (the 2 webinars are already open for registrations):

Learning More About the Unruly Passenger Challenge (19 June at 12:00 CEST): Registration Link
Helping Passengers and Supporting our Staff (21 June at 12:00 CEST): Registration Link

Promoting occurrence reporting
Winter readiness, 9th and 10th of August, three webinars open for registration:
EBAA, represented by Johan Glantz, Senior Manager Safety and Regulatory Affairs, is also an active stakeholder in Meetings and Conferences throughout June.
1. The week of 5th of June was dedicated to Flight Safety Foundation events:
On the 7th and 8th of June, Johan was at the 10th Annual Flight Safety Foundation Safety Forum, hosted by Eurocontrol in Brussels. In line with this year's theme "Knowledge, Skills and Experience for Safe Operations"​, Johan moderated Session 1, dealing with "Institutional, Regulatory Matters and Beyond". The session featured three presentations, followed by a panel discussion:
Safety is About People | Stuart Fox, IATA
(Re)building Capacity and Capability: A Safety Regulators Perspective on Knowledge, Skills and Experience Challenges | Sophie Jones, UK CAA
Pilot Support & Development: A Holistic Approach to Promoting (Mental) Wellbeing and Resilience | Gunnar Steinhardt, EAAP and Pascal Kremer, Luxair
Besides his involvement in the Safety Forum, Johan also represented EBAA in the joint European- and International Advisory Committee (EAC and IAC) meeting on the 6th of June and the FSF "Learning from all operations" Working Group meeting on the 9th of June.
2. Between the 13th and 15th of June, in Cologne, Johan will attend the 2023 edition of the EASA-FAA International Aviation Safety Conference. The conference looks at how can the aviation industry foster innovation and sustainability while maintaining its impeccable safety records.
3. On the 20th of June EBAA and the General Aviation Manufacturers Association (GAMA) will jointly present in front of EASA's Flight Standards Technical Committee (FS.TeC) on SET-IMC and the outcome of the SET-IMC Conference held at AERO Friedrichshafen.
4. 21st and 22nd of June – Second EASA Stakeholders Advisory Body (SAB) Meeting in 2023
5. 27th and 28th Joint General Aviation Technical Body and Technical Committee (GA.TeB/GA.COM) meeting
FOR OUR MEMBERS' ATTENTION AND INPUT
Severe Space Weather Exercise (Download button on the left column)
Please be advised that on the 8th and 9th of November ICAO and the Network Manager will perform an exercise activation part of the European Aviation Crisis Coordination Cell (EACCC) which operators are part of, via the Air Operators Crisis Coordination Cell (AOCCC).
The AOCCC is an operational function manned by operator representatives that is activated by the EACCC to aid operators to decide if to operate or not and provide a direct link to the NM operations centre. Business aviation is represented by an EBAA staff member being part of the AOCCC on-call group.
The objective of these two groups is to coordinate ATM actions across EU states in the event of a crisis affecting the whole EU ATM network, such as the Eyafjellajökul eruption in 2010. In previous years the annual exercise has focused on volcanic eruptions with ash spreading at altitude, and some of you have participated in the exercises as well.
This year's exercise will deal with severe space weather. In the preparation of the exercise, managed by ICAO, there are a few questions operators are asked to answer in the document attached (page 8).
We are aware of the generalisation of aircraft as "airliners" and operators as "airlines", these will be corrected in the subsequent versions of the document. We have nevertheless the confirmation of the coordinator that is in the interest of the wider airspace user community to encourage EBAA members to provide their input, hence please consider providing your input.
If you are interested and have considered, or not, the effect of space weather on your operations please provide your answers to the EBAA secretariat at Safety@ebaa.org (or directly to jglantz@ebaa.org or cmeindl@ebaa.org) before the end of July.
PhD research in the area of emergency preparedness of European Business Aviation Operators.
One of our members is currently conducting PhD research on the emergency preparedness of business aviation operators. Below you will find a link to an online survey asking all management personnel working in 'Business Aviation', i.e. non-scheduled AOC or part NCC operations, to complete a short online survey regarding their perceptions of the emergency preparedness of the operator they work for. This survey is open to all European operators and therefore some of you might be interested in the research and in completing the survey (please see attached poster). All responses are anonymous and will not identify any individual or operator. Participation is voluntary and should take approximately 5-10 minutes to complete by clicking the link below.
https://coventry.onlinesurveys.ac.uk/european-business-aviation-survey-2023
SAVE THE DATE – EBAA Annual Safety Summit (14-15 November, Cologne)
Like we have accustomed our members by now, the Safety Department is organising the Annual Safety Summit on the 14th and 15th of November in Cologne. During the one-and-a-half day event, besides the panel sessions and presentation, the Closed session dedicated to member operators will make a return. More information about the agenda and registration opportunities will come soon.
Please reach out to the safety team at safety@ebaa.org, if you have any suggestions for speakers or topics you would like us to feature in the Safety Summit.
Hope to see you in Cologne!